After a pregnant woman tested positive for COVID-19, she was hospitalized and put on a ventilator. When her condition became critical, the doctors called her husband and presented him with a painful choice.
Nothing hurts more than seeing our loved ones suffer and feeling utterly helpless. Ironically, a husband battled the same feelings when his wife became unwell, and her health worsened.
Christina and Nick Jones from Nelson, Caerphilly, Wales were doting parents to two kids, Nicky, 15, and Honey, 10, when they received heartwarming news — they were expecting another child. The couple was thrilled and couldn't wait to embrace parenthood again.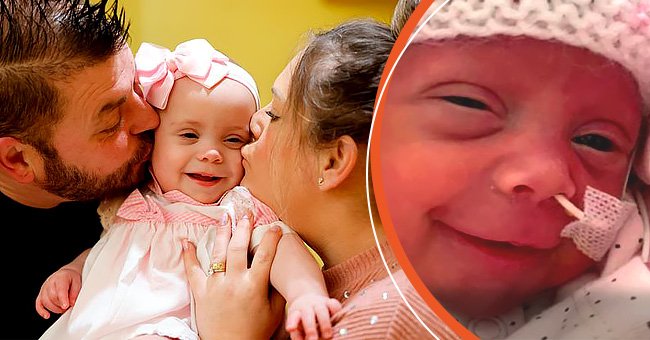 [Left] Nick and Christina Jones kiss their daughter, Angel Grace Hope Jones; [Right] Angel pictured as an infant. | Source: twitter.com/WalesOnline. | facebook.com/WalesOnline
A FAMILY ORDEAL
Before becoming pregnant, the couple had lost a baby only three months into the pregnancy after doctors could not find a heartbeat. The Joneses were hopeful that the pregnancy would go smoothly this time and that their lives would be filled with infinite joy.
But things took a sudden turn when Christina tested positive for COVID-19 on February 18, 2021. After eight days of isolation, she was taken to Prince Charles Hospital in Merthyr Tydfil, Wales, after she struggled with breathing.
The then-39-year-old woman was 30 weeks pregnant, and after being placed on oxygen for four days, her condition worsened, and she was put on a ventilator on March 1, 2021. Her critical condition worried the doctors, so they decided to call her husband, Nick.
A HEARTBREAKING DECISION
They told Nick that they wanted to deliver the baby by emergency C-section, for which he needed to sign the paperwork. Then then-45-year-old Nick recalled feeling fearful and worried when a surgeon and grief counselor greeted him at the hospital.
Like Nick, a Birmingham woman was asked to choose between saving her own life or her unborn baby after she was diagnosed with chronic myeloid leukemia during a routine blood test at 21 weeks.
Nick was told his wife was "as ill as you can possibly get" and that the only option they had to save her life was to deliver the baby early. Before going into surgery, they presented him with a choice no one should ever have to make — to save his wife or baby.
PRAYING FOR A MIRACLE
The heartbroken man told them to save his wife. Under the exceptional circumstances, Nick wore a hazmat suit with an oxygen generator and spoke to his wife, who was in a coma. He recollected:
"At that point, how ill Chris looked, I really thought it was going to take a miracle."
Their daughter was delivered via C-section on March 2, 2021, exactly two months before her due date, and weighed only 3lbs 6oz. She was immediately taken to a separate room as she was born to a COVID-positive mother.
WELCOMING BABY ANGEL
Shortly after birth, the baby was transferred to The Grange Hospital in Cwmbran, South Wales, for five days. Nick could not see his daughter as she required two negative COVID-19 tests, but the hospital shared daily pictures of her.
While Christina was unconscious, Nick and the kids decided to name the baby "Angel Grace Hope-Jones," with "Angel" being a temporary name initially. A distraught Nick couldn't see his wife while she remained seriously ill in the hospital.
On March 8, 2021, Christina gained consciousness and shared that she didn't remember being pregnant. By then, Angel had been shifted to Prince Charles Hospital in Merthyr, Wales, and Nick spent only ten minutes with his daughter before she was transferred.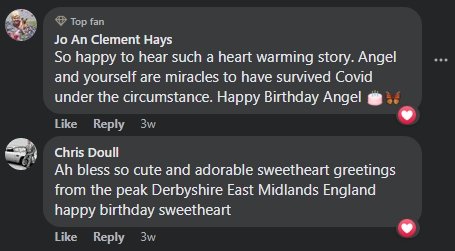 Individuals' comments on a post about Angel Jones | Source: Facebook/WalesOnline
GETTING BACK TO NORMAL
Meanwhile, Christina remained in the ICU and struggled with walking and adjusting to her normal life. After testing positive for COVID-19 for 33 days, she finally saw her newborn girl at two weeks old.
Christina and Angel bonded well despite the separation and developed an instant connection. The doting mom also kept her baby girl's temporary name after discovering her daughter, Honey, chose it.
Christina also shared that she was highly concerned for her husband, who had diabetes and had a rare kidney disease, and never thought she'd be the one catching COVID-19.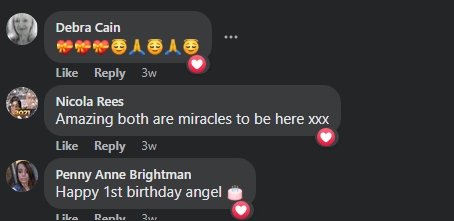 Individuals' comments on a post about Angel Jones | Source: Facebook/WalesOnline
HAPPY BIRTHDAY, LITTLE PRINCESS
One year later, the family of five is thriving, and the Joneses also celebrated little Angel's first birthday on March 2, 2022. The mom-of-three recalled that the past year was a rollercoaster, physically, mentally, and emotionally" for her and her family. She expressed:
"Lots of people have had Covid but, for me, I'm always going to have an anniversary to remind me of when I had it because of Angel's birthday.
Christina also celebrated her 40th birthday last September and shared that her ordeal has changed her perspective. "It does make you look at life in a whole different way after being what I've been through. It certainly does. I cherish things. I'm grateful I guess," she added.
ANOTHER MIRACLE STORY
Like Nick, a Birmingham woman was asked to choose between saving her own life or her unborn baby after she was diagnosed with chronic myeloid leukemia during a routine blood test at 21 weeks. Victoria Webster recollected:
"Doctors kept telling me I should have a termination but I had made up my mind, and my husband Martyn supported me. It's the best decision I have ever made. I can't imagine life without my daughter."
She defied doctors and delivered her daughter, Jessica, via C-section in April 2010 and immediately started her chemotherapy treatment, to which she responded well. Webster shared that her doctors were optimistic she would soon be cancer-free.
What do you think about these incredibly heart-touching stories? Have you ever experienced a miracle in your life? Let us know your thoughts, and don't forget to share these stories with your loved ones.